Alternative content is available within Restrict for Elementor area whenever you're using any of criteria for content restriction. So, instead of hiding the section, column or widget entirely, you can display some specific content to users that do not fulfill required criteria to view this content.
There are three options available:
None – section, column or widget will be simply hidden and none of the content will be displayed in its place
Elementor Template  – you can choose one of the Elementor templates to display in place of restricted content. This is useful if you want to have somewhat uniform and nicely styled notice that you want to show to your visitors if they do not fulfill required criteria. Especially useful if you have a template that, for example, funnels your visitors towards purchasing a specific WooCommerce or Easy Digital Downloads product to be able to access the content. That way you can create, say, a section template that will have some add to cart button or a button that will lead to the products that will grant customers access to the restrict content and you can use that same template anywhere you want.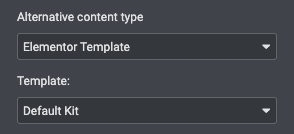 HTML/Formatted Text – if this option is selected, WordPress' default HTML/text editor will appear where you will be able to enter the text, images, etc. much like you would do with WordPress' classic editor.