Restrict for Elementor integrates well with WooCommerce and allows you to use WooCommerce specific criteria to show or hide sections, columns and widgets of Elementor page builder.
So, if you have WooCommerce plugin installed on your website, when you add a section, column or widget, in the content area of that element, you will find an option to show or hide this element using Restrict for Elementor.
When you select WooCommerce users from the dropdown menu, a new dropdown menu will be revealed, labeled simply as Who: which indicates whom this content should be available to and there are four options:
Purchased any product – shows or hides the content to users who purchased any product using WooCommerce on your website. This comes in helpful if you want to show appreciation to your customers by a simple Thank you for being our customer text or if you want to give your existing customers a coupon code for their next purchase.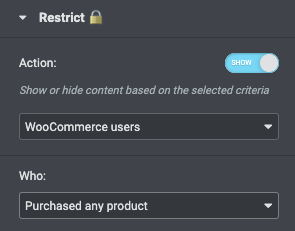 Purchased specific product – if this options is selected, a new field will be revealed allowing you to select which exact product you require a user to have previously purchased in order for the content to be shown or hidden. For example, if you have some paid content on your website and want users to pay to be able to access it, you can make a product in WooCommerce that will be their "ticket" to access that content.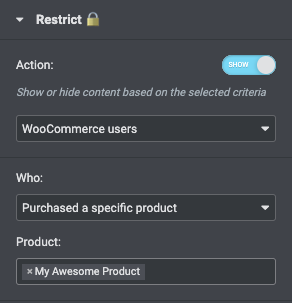 Purchased specific product variation – this is useful if you're selling variable WooCommerce products in which case you can then select a particular variation in the field that will appear and make that a criteria for showing or hiding the content. Similarly to previous case, you can, for example, have many different, say, sections on the same page all of which require different product variation in order to be accessed. That way, you can have a single page that will display different content based on what product variation a visitor has purchased.
Has an active subscription  – this option will only appear if you have WooCommerce Subscriptions plugin installed. What this does is that it allows you to select which subscription product is required and then will check if the current user has an active subscription with that product and show or hide the content to them. This is very helpful if you're running some sort of online courses and require your users to have an active subscription in order to access the paid content on your website.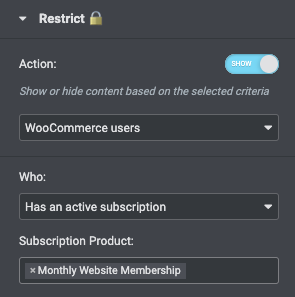 Regardless of which of these criteria you choose to use, you can display an alternative content to users who do not fulfill required criteria. More about this feature can be found here.